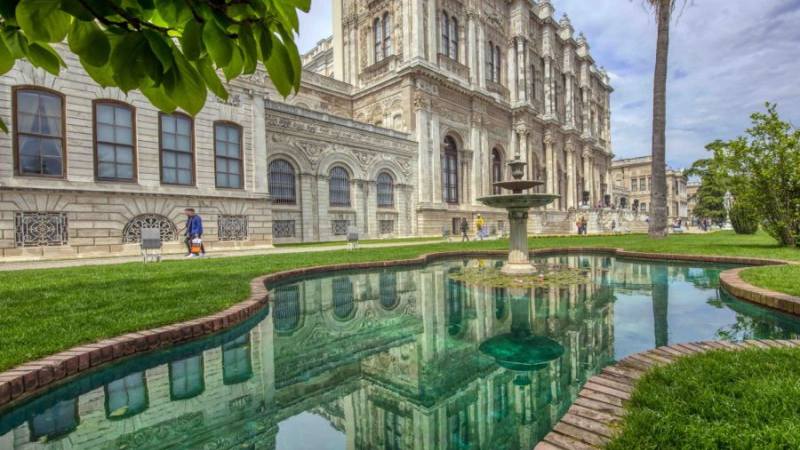 DOLMABAHCE PALACE
Evliya Çelebi writes that Yavuz Sultan Selim built a mansion on the present site of Dolmabahçe Palace. During the reign of I. Ahmet, the space was filled with stones and the pavilion was enlarged. In the 19th century, II. Mahmut built a new palace in the same place. The current structure was built by Abdulmecit I in 1842 by Karabet Balyan. The palace, whose construction continued until 1853, is the place where Abdülmecit lived, as well as where he works. Dolmabahçe Palace, which was the Presidential Residence of Atatürk in Istanbul after the proclamation of the Republic, has a special importance in the history of the Republic as it is the place where Atatürk died on November 10, 1938.

The main structures of Dolmabahçe Palace are; Harem, Mabeyn, Clock Tower and Dolmabahçe Mosque. There are 285 rooms and 46 halls, 6 baths and 68 toilets in the palace. The palace was established on an area of 110 thousand square meters and switched to electricity and heating system in the 1910s.
The balustrades of the Mabeyn stairs are decorated with crystals in a magnificent appearance, and the four-ton and seven hundred and fifty bulb crystal chandelier hanging from the 36-meter dome in the Throne Hall in the Mabeyn ensure a European feel to the hall.
This chandelier is a gift from Queen Victoria. This Throne Hall was rebuilt on March 19, 1877. It also hosted the opening of 2. Abdülhamit's Ottoman Assembly. There is also a corridor in the Harem from which the Throne Hall can be viewed. Harem; It contains different places such as the Blue Hall where ceremonies are held, the Pink Hall where women have fun, the rooms where Atatürk stayed, and the Valide Sultan rooms. The thirty-meter-high clock tower at the entrance of the palace is said to have been completed in 1895.

The Dolmabahçe Mosque next to the palace was completed in 1853 by Nikoğos Balyan, a member of the Balyanlar family who left their mark on Ottoman architecture. At the back of Dolmabahçe Palace, there is a small pavilion built in the 19th century for the Sultan's birds. The building housed many birds of different species at that time. Dolmabahçe Palace, which has been converted into a museum today, is affiliated to the Department of National Palaces.

(Source: kulturportali.gov.tr)